New York City, US
Bias towards action
Fight for simplicity
Be your authentic self
Mission driven
Run through walls
Check your ego
Introduce us to your team
We're a small, but mighty team with backgrounds in big tech, as startup founders and as early members at successful startups. We've come together around a shared vision and are dedicated to creating important and positive experiences for cyberspace.
We're well resourced (unannounced rounds) & backed by top-tier investors, including the backers of companies like Airbnb, Pinterest, Snap, and Twitter, as well as the founders of companies like Zynga, VSCO, and Scale and the people behind artists like Miley Cyrus, Justin Bieber, Lorde, Logic, and Panic! At The Disco, and many others. Our team is advised by the founders of Pinterest, Dubsmash (now Reddit), as well as pioneers of digital marketing and market design from Harvard.
We care about building a genuinely diverse team. We are a majority-first gen immigrant team and sponsor visas — we think that's important as we build towards enabling easier digital migration. We share the same values of individuality, empathy, reliability, kindness and humility. One big overlap among our life experiences is contrasts: contrasts between our own upbringing and the world around us, contrasts between what was expected of us and what we ended up pursuing and our bringing together of contrasting, interdisciplinary worlds.
Interests across the team span robotics, stand-up comedy, poetry, fandoms, fly fishing, deep learning, sociology, memes, jazz, ceramics and much much more. 👐
Some characteristics that we share:
Work ethic

Mastery

Breadth

Marathon runners (we don't give up)

Humor/goofiness

Impatient and fast (frustrated with bureaucracy)

Non-complainers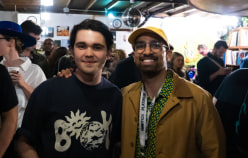 What is the product you're building?
We're building Shelf. It's a digital shelf that updates as you consume content online. You can control what shows up on your shelf, and see when people you know are watching, reading or listening to the same thing. And it's built on top of infrastructure that allows you to reclaim control over your consumption and interest data, and provision third-party access to it to personalize experiences without compromising your privacy.
What is the master plan?
To invert the internet's data model.
The first act is helping users aggregate their consumption and interest data in a personal data store via Shelf. Shelf leverages that data to create meaningful moments that help you connect with yourself and others.
What values does your team share?
Kaizen.
The Japanese idea of continuous improvement. We are deeply invested in producing high quality work for ourselves. We believe in the endless draft—it's never "done". Superlative work comes through iteration. We care about learning cycles. As we ship and grow, we learn, we refine, we hone in on the essence of what we're building and how we're building.
Laser focus on the simple.
We make asymmetric bets: getting the max upside for the minimum investment. Within that, we descope and take away the extraneous so that we can execute with speed and quality [speed and quality over scope]. We focus in on the core of the bull and we know that it takes a lot of hard work to make something simple. We are discerning and look to reduce things down to their atomic units.
We all water the plants.
Culture comes from the word cultivate. We're all gardeners in the koodos garden. We focus as much of our time on our zones of genius (activities that you are uniquely good at and love to do). But no job is below anyone — we are low ego and proactive, we all roll up our sleeves and water the plants…and sometimes we even have to scoop the fertilizer.
Long time horizon, short-term urgency.
We are running a marathon. We look into the future and build towards it. Importantly, we don't wait for it to happen — we make it happen. We are impatient. We build fast, but with genuine care.
What benefits does your team offer?
Competitive salary & equity compensation relative to NYC-based early-stage companies. We aim to be as generous as we're able.
We sponsor visas, if needed!
Top company-paid health insurance. your health and wellness will always come first.
Unlimited paid time off.
Instant access & membership in a variety of high-calibre internet communities, academic working groups & developer groups (e.g. the W3C and IAPP where we're members).
We also regularly host lunch & learns. We've had a range of guests from the founders of Pinterest & Goodreads to the creators of Spotify Wrapped & Reddit Forecasting.
Premium tech setup. whatever you need to be at your best.
Our own office! We have our own 🔥 office space in West Soho (NYC).
We look for startup DNA - a desire to work hard, have impact, self-lead, etc. if you end up building a company after koodos, we'll be your first investor. we're looking for self-starters!