Introduce us to your team
Hi! We're Brex Design! 👋
A group of 50+ individuals across product, content, brand, and ops, coming together to reimagine financial systems. We hope the page below gives you a little 👀 into what we're like and if you'd like to get in touch—feel free to drop us a line at the bottom of this page!
How does your team stay connected when working remotely?
Remote work has made it harder than ever before to form natural connections! Zoom's can feel transactional (and let's not even talk about those happy hours 😅) and so we've really embraced being creative about how we connect. At the beginning of the pandemic, we used Figma to run our first virtual offsite and then heard from tons of design teams on how that template brought their teams together! But we don't think it can all happen virtually. We encourage teams to get together once a quarter and hold in-person offsites in addition to the annual company-wide one. Teams have gone to Miami, Sedona, Chicago, and all sorts of other places to connect in person. And that's what we think really does work best, this hybrid approach to getting together and spending quality time with each other while also getting to work from wherever works best for you!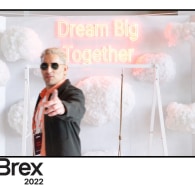 How does your team work with product and engineering?
At Brex, every team has an Engineering, Product, and Design lead—what that allows us to do is ensure that Design thinking is deeply involved from the get-go.
We work directly with our Product and Engineering counterparts to define the strategy, roadmap, and goals for any given team. Once we all are aligned on the problem to solve and its business impact, Design primarily runs with the what and leads the charge on defining what the best way to solve the problem is.
Share the last meme from the team chat
We had to capture the passion that our Design Systems lead,
and local celebrity, Ramy has for auto layout 😅
How do we contact you?
👋 If you want to say hi, send us a meme (encouraged), or you're interested in learning more about the team, just shoot us an email at hello-design@brex.com. We would love to hear from you!